Welcome to Maggies Cabins!
Imagine the tranquility, only minutes from the hustle and bustle of the city, when you stay at one of Maggies Cabins.
We invite you to escape and relax for a weekend, a week, or more—you owe it to yourself to enjoy our comfortable accommodations. Come celebrate your honeymoon, anniversary or just enjoy a romantic getaway with a loved one at our of our cozy properties. You might not want to leave!
Activities such as hiking, river rafting, skiing, mountain biking are some of what is offered in our area. Nearby is a single lane wooden suspension bridge. Great place to access river as well as take pictures.
Maggies Cabin and Maggies Love Shack are in the same neighbor hood and each have their own special features.
The Love Shack has a large wrap around deck. The side yard offers a fire pit for roasting marshmallows or just to enjoy the warmth and beauty of a fire. The deck offers a large hot tub as well as a covered area for dining and a BBQ. Inside the cabin are knotty pine walls, hard wood floors and new gas fireplace. Two bedrooms, with one queen bed, one full bed and both have large windows. This cabin was built in the 1960's and has a small foot print. This property is suited for couples wanting to get away from it all. We have many couples celebrate special occasions and return each year.
Maggies Cabin is our riverfront property built in 1936 featuring original river rock fireplace with wood burning insert. Inside the cabin are knotty pine walls, hardwood floors and carpet. A favorite area is the large covered porch with plenty of space to dine or play cards or just listen to the river. Enjoy a dip in the large hot tub while watching the sun set or eagles fly by. We have many return guests.
Check our rates and securely make reservation for your stay at one of Maggies vacation rental cabins.
Plan your getaway now!
MAGGIES CABIN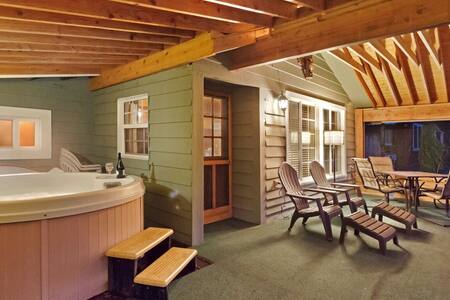 Beautiful, knotty pine cabin on 100 feet of the scenic skykomish river
2 bedrooms, 1 Bath, 725 square feet
Plush leather furniture
Hardwood floors in Kitchen and knotty pine walls
Large 4 person hot tub
Large covered porch with hot tub over looking river and mountians
Satellite TV with HBO & Cinemax, DVD player
Maximum occupancy: 4
Electric & Wood heat for the natural, river rock fireplace with stove insert
Complete kitchen
Keurig coffee pot with coffee, tea and hot coco supplied
High-speed Internet
Outside gas grill
Custom made bathrobes to use
Only 23 miles west of Stevens Pass
Phone for local calls
MAGGIES LOVE SHACK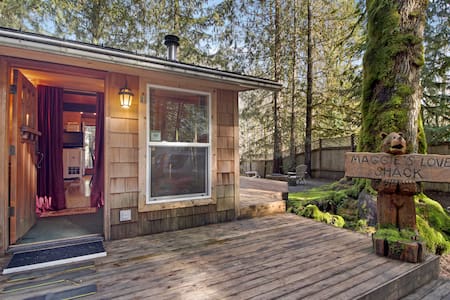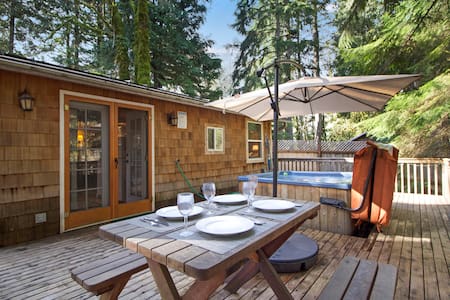 Surrounded with trees and partial fenced yard
2 bedrooms, 1 bath, 650 square feet
Dual recliner couch and small rocker
Large 4 person hot tub
Hardwood floors and knotty pine walls
Flat screen TV with Satellite, HBO and Cinemax
Freestanding gas fireplace
French doors to deck
Maximum occupancy: 4
Large, wrap-around deck
Complete kitchen with granite counter tops
Keurig coffee pot with coffee/tea/hot coco supplied
High-speed Internet
Dimmers on most lights
Fire pit on side yard
Outside gas grill
Custom made bathrobes to use
Only 23 miles west of Stevens Pass
Phone for local calls